The percentage of research papers published in low quality journals are reported to be high in India which has adversely affected its image. UGC approved list of journals is created with an intention for the purpose of various academic evaluation of institutions and individuals. Journals indexed in Scopus and Web of Science may be considered for all academic purposes (institutional ranking, appointment and faculty promotions and award of research degrees).
UGC Approved List of Journals has been replaced by UGC-CARE list w.e.f. 14.06.2019.
UGC CARE List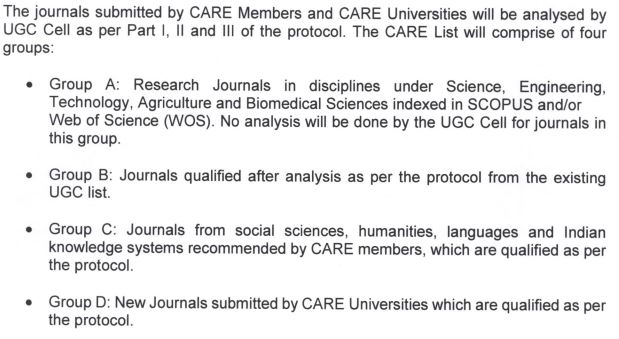 The UGC-CARE List has only TWO groups, instead of the original FOUR groups to simplify the search process. These are NOT hierarchic or ranked groups.
| | |
| --- | --- |
| UGC CARE List Group 1 | UGC CARE List Group 2 |
| Journals found qualified through UGC-CARE protocols | Journals indexed in globally recognized databases |
| Find the journal list: Click here | Find the journal list: Click here |
Beware of Cloned journals
UGC-Cell for Journal Analysis, Center for Publication Ethics (CPE) at Savitribai Phule Pune University(SPPU), Pune, has been notified of cloned and online versions of print-only, authentic Journals on its UGC-CARE List. The ISSN, title, logo etc have been cloned. Scholars are cautioned against such cloned versions of Journals on the UGC-CARE List, and are requested to verify with the CPE whenever they are in doubt about the veracity of any Journal. We also request that news of such cloned Journals be reported to the CPE at the earliest.
List of cloned journals
Also look, how to know if a journal is UGC CARE list indexed?
List of journals removed from UGC-Approved List
Many journals which were earlier indexed in UGC List are now barred to be included in UGC CARE list. The UGC has removed 4,305 journals on 02/05/2018 that are either predatory or low quality. This list of removed journals can be found from this link.
UGC already Put Notification on website that whatever paper published before 02/05/2018 all paper are valid and can claim point because before this date our journal is UGC approved.