In this article, I have enlisted the most popular books on Machine Learning and Python. These books are selected and recommended after reviewing the feedback of the readers from the various platforms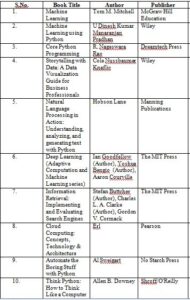 Top 10 Books for beginners
Machine Learning
Machine Learning using Python
Core Python Programming
Storytelling with Data: A Data Visualization Guide for Business Professionals
Natural Language Processing in Action: Understanding, analyzing, and generating text with Python
Deep Learning (Adaptive Computation and Machine Learning series)
Information Retrieval: Implementing and Evaluating Search Engines
Cloud Computing: Concepts, Technology & Architecture
Automate the Boring Stuff with Python
Think Python: How to Think Like a Computer Scientist
1. Machine Learning
Author: Tom M. Mitchell
Publisher: McGraw Hill Education; First edition (1 July 2017).
This textbook provides a single source introduction to the primary approaches to machine learning. It is intended for advanced undergraduate and graduate students, as well as for developers and researchers in the field. No prior background in artificial intelligence or statistics is assumed. Several key algorithms, example date sets and project- oriented homework assignments discussed in the book are accessible through the World Wide Web.
2. Machine Learning using Python
Author: U Dinesh Kumar Manaranjan Pradhan
Publisher: Wiley (1 January 2019)
This book is written to provide a strong foundation in machine learning using Python libraries by providing real-life case studies and examples. It covers topics such as foundations of machine learning, introduction to Python, descriptive analytics and predictive analytics. Advanced machine learning concepts such as decision tree learning, random forest, boosting, recommended systems, and text analytics are covered.
Buy Online
3. Core Python Programming
Author: R. Nageswara Rao
Publisher : Dreamtech Press; Second edition (1 January 2018)
At present, Java occupies number 1 rank as the most used programming language since almost all the projects are developed in Java. Python is already occupying 2nd to 4th position and will be the most demanded language after Java in near future. Python is used with other programming languages on Internet as well as for developing standalone applications. Python programmers are paid high salaries in the software development industry. Hence, it is time for beginners as well as existing programmers to focus their attention on Python.
Buy Online
4. Storytelling with Data: A Data Visualization Guide for Business Professionals
Author: Cole Nussbaumer Knaflic
Publisher : Wiley; 1st edition (20 November 2015)
Storytelling with Data teaches you the fundamentals of data visualization and how to communicate effectively with data. You'll discover the power of storytelling and the way to make data a pivotal point in your story. The lessons in this illuminative text are grounded in theory, but made accessible through numerous real-world examples—ready for immediate application to your next graph or presentation.
Buy Online
5. Natural Language Processing in Action: Understanding, analyzing, and generating text with Python
Author:
Hobson Lane, Hannes Hapke, Cole Howard
Publisher : Manning Publications; 1st edition (14 April 2019)
Natural Language Processing in Action is your guide to creating machines that understand human language using the power of Python with its ecosystem of packages dedicated to NLP and AI.
Buy Online
6. Deep Learning (Adaptive Computation and Machine Learning series)
Author: Ian Goodfellow, Yoshua Bengio, Aaron Courville
Publisher : The MIT Press; Illustrated edition (18 November 2016)
An introduction to a broad range of topics in deep learning, covering mathematical and conceptual background, deep learning techniques used in industry, and research perspectives.
"Written by three experts in the field, Deep Learning is the only comprehensive book on the subject."
7. Information Retrieval: Implementing and Evaluating Search Engines
Author:

Stefan Buttcher , Charles L. A. Clarke, Gordon V. Cormack

Publishe

r : The MIT Press; Reprint edition (12 February 2016)
Information retrieval is the foundation for modern search engines. This textbook offers an introduction to the core topics underlying modern search technologies, including algorithms, data structures, indexing, retrieval, and evaluation. The emphasis is on implementation and experimentation;
8. Cloud Computing: Concepts, Technology & Architecture
Publisher : Pearson Education India; 1st edition (1 January 2014)
Cloud Computing: Concepts, Technology and Architecture is the result of years of research and analysis of the commercial cloud computing industry, cloud computing vendor platforms and further innovation and contributions made by cloud computing industry standards organizations and practitioners. This book breaks down proven and mature cloud computing technologies and practices into a series of well-defined concepts, models and technology mechanisms.
Buy Online
9. Automate the Boring Stuff with Python
Author: Al Sweigart (Author)
Publisher : No Starch Press; 2nd edition (12 November 2019)
The second edition of this best-selling Python book (100,000+ copies sold in print alone) uses Python 3 to teach even the technically uninclined how to write programs that do in minutes what would take hours to do by hand. There is no prior programming experience required and the book is loved by liberal arts majors and geeks alike.
10. Think Python: How to Think Like a Computer Scientist
Author: Allen B. Downey
Publisher : Shroff/O'Reilly; Second edition (1 January 2016)
If you want to learn how to program, working with Python is an excellent way to start. This hands-on guide takes you through the language a step at a time, beginning with basic programming concepts before moving on to functions, recursion, data structures and object-oriented design. This second edition and its supporting code have been updated for Python 3.